SPECIAL EMITTERS
Because of our experience in the Quartz production combined with IR Lamp manufacturing, Helios Quartz can now provide custom-designed , non-linear curved shapes:
Circular Shape

Omega shape

Oval shape

Linear shape with ending part of the emitter coming out at 90° from the lamp body

Special shape that follows the profile of the object need to be heated
Through the circular, omega and oval shape emitters it is possible to heat up a tubular object by using only one emitter; these type of heaters are the primary designs used for applications in the automotive industry. Examples such as Plastic welding, bending and forming of component parts.
IR QUARTZ EPIRADIATOR
IR Quartz Epiradiators, taking advantage of quartz glass transparency to IR radiation, its resistance to corrosive

agents and to thermal shock, are widely used in laboratories and chemical factories.
They are constructed by a waterproof quartz glass chamber.. The heated filament is connected through the electrically-insulated fused-silica handle. They are normally used to evaporate liquid solutions.
IR QUARTZ DIPPING/IMMERSION HEATERS
Helios Quartz, taking advantage from the physical properties of quartz glass produces special IR quartz dipping heater e

lements suitable for warming up liquids.
The IR quartz dipping heaters are made out of quartz glass tube closed on one side and with an insulated electrical connection on the other side.
Helios Italquartz produces its standard models with a heating length ranging from 200mm up to 1500mm and a power between 300W and 4000W.
ACCESSORIES: CABLES and HOLDERS

Helios Italquartz uses particular attention in the selection of all the components and materials involved in the production of its IR quartz emitters; the cable selection is a very important issue.
The standard emitters are provided with two kinds of cables that work up to 250°C or up to 400°C. On request it is also possible to equip the IR quartz emitters with special wire that can reach working temperature up to 700° C or up to 1100° C.
Helios Quartz always suggests to use, in combination with its IR emitters, special inconel mounting clamps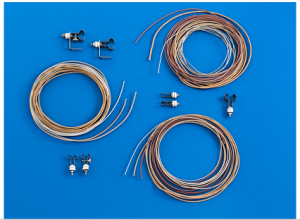 which are required when installing IR Lamps into ovens, for example. These special supports are specifically designed with a particular alloy that can reach very high temperatures (more than 1000°C), with a controlled dilation that keeps the memory of the original shape. Your Helios Quartz technical consultant can provide you with the right choice and solution for your specific situation.