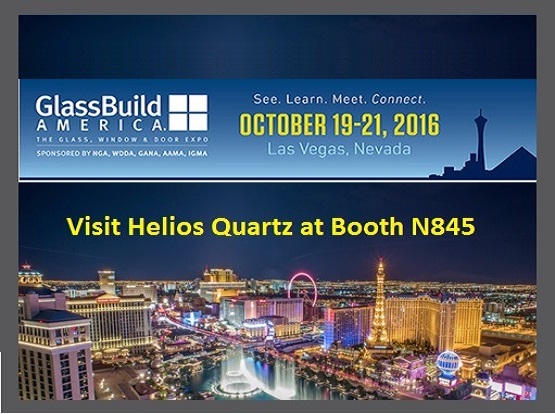 GLASSBUILD AMERICA 2016
From October 19th to 21st Helios Quartz will be in Las Vegas to attend GlassBuild America 2016, the most important trade fair in USA for glass, window and door industry.
Worldwide leader for IR quartz emitters and UV lamps, Helios Quartz will attend this exhibition showing the latest innovations in Infrared and UV technology designed for Glass Industry applications. Among these our FULLY AUTOMATIC TIN DETECTOR, the best quality control solution for all operators in the glass industry who want the certainty that the whole processing is made on the "air side".
Laminated glass production and processing, drying screen printing and coating curing, mirror production, glass bending and fusion, glass annealing processes and many more: Helios Quartz offers the best solution for every application.
Book now your meeting with our sales team by writing to enquiries@heliosquartz.com! You will find us at booth N845.